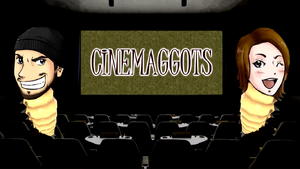 CINEMAGGOTS (formerly Caddy's Film Fridays) is a brand new show where Caddy expresses his thoughts about films. The series is uploaded every Friday, and it replaced Puppicarus after he received negative feedback.
On an update video released on Apr 16, 2017, Caddy announces that the format will be revamped with a new title, under the name CINEMAGGOTS which is hosted by Caddy and Cerys. 
The show has became dormant since 2018, the only episode uploaded that year being "Kids Explain 'The Phantom Menace'" This was later explained in the update video "caddy is making daily videos and going insane"; Cerys was too busy with her work and had no time making these videos.[1]
Kids Explain
Edit
Kids Explain stars Cerys' two youngest daughters Amy and Phoebe where they express their opinions about films and TV shows.
Episodes
Edit
as Caddy's Film Fridays 
Edit
Kids Explain 'Star Wars'
My Thoughts on 'Deadpool'
My Thoughts on 'Inside Out'
Kids Explain 'Jurassic Park'
My Thoughts on 'Goosebumps'
My Thoughts on 'Minions'
Kids Explain 'The Lord of the Rings'
My Thoughts on 'The Jungle Book'
My Thoughts on 'Zootropolopia'
My Thoughts on 'The Hateful Eight'
Kids Explain 'Cool Cat Saves the Kids'
My Thoughts on 'The Lady in the Van'
My Thoughts on 'The Peanuts Movie'
My Thoughts on 'Mad Max: Fury Road'
Kids Explain 'Raiders of the Lost Ark'
My Thoughts on 'Pompeii'
My Thoughts on 'The Conjuring 2'
My Thoughts on 'Finding Dory'
My Thoughts on 'REC'
My Thoughts on 'Lights Out'
Kids Explain 'Labyrinth'
My Thoughts on 'BFG'
My Thoughts on 'Fear and Loathing in Las Vegas'
My Thoughts on 'The Crow'
My Thoughts on 'Sausage Party'
My Thoughts on 'Storks'
Kids Explain 'Jaws'
My Thoughts on 'A Nightmare on Elm Street (2010)'
My Thoughts on 'Rouge One'
My Thoughts on 'Prison Break'
My Thoughts on 'Halloween (1978 film)'
Kids Explain 'Peppa Pig'
My Thoughts on 'Trainspotting 2'
as CINEMAGGOTS
Edit
Kids Explain 'Batman & Robin'
Monsters University
Pirates of the Caribbean: Dead Men Tell No Tales
Baywatch
Baby Driver
Cars 3
Kids Explain 'My Little Pony: The Movie (1986)'
The Emoji Movie
Dunkirk
IT (2017)
mother!
Kids Explain 'Who Framed Roger Rabbit?'
Flatliners
Murder on the Orient Express
Paddington 2
Kids Explain 'The Night Before Christmas'
Kids Explain Caddy...or Not?
The Last Jedi and The Disaster Artist
Kids Explain 'The Phantom Menace'
References
Edit